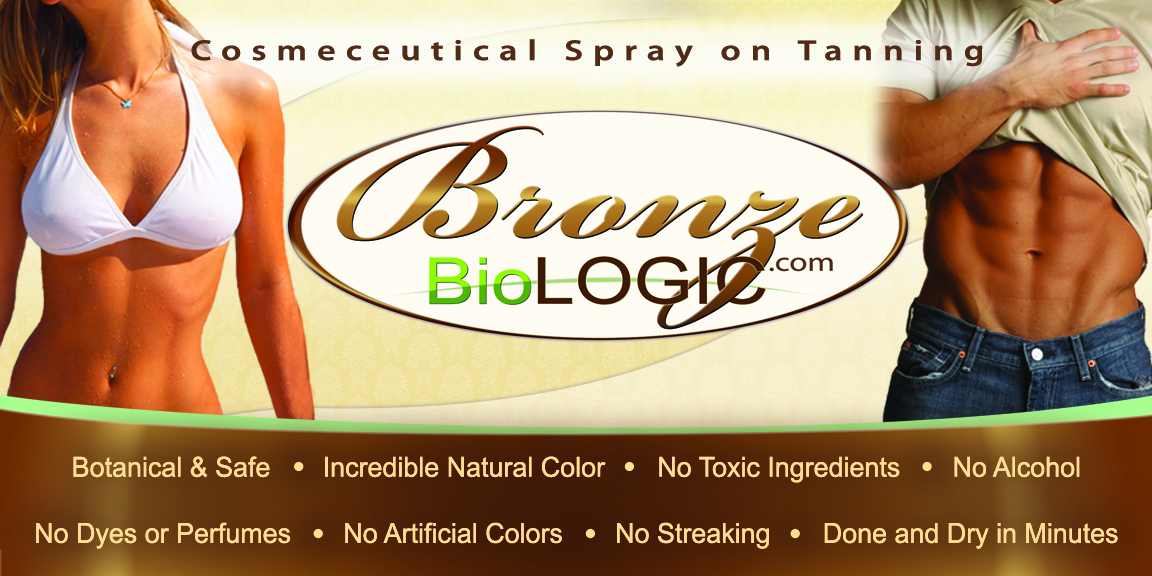 Bronze Biologic premier cosmeceutical tanning solutions are proprietary formulas
that use only the finest botanical ingredients available to produce a safe, all natural looking tan. All of our solutions are manufactured in the highest quality facility with a unique process that is exclusive to Bronze Biologic, utilizing beet and cane sugar extracts.
Our proprietary formula ingredients are simple and safe.
Purified Water:
 Water that has been filtered to remove all chemicals, chlorine, sediment, and harmful elements.
Dihydroxyacetone:
 (DHA) is a FDA approved simple carbohydrate compound that is derived from plant sources such as beet sugar and causes a natural tanning of the skin when applied at the right concentration
.
Saccharum Officinarum: The botanical name for cane sugar. When processed correctly at specific temperatures and concentrations, this ingredient creates a natural, safe bronzing effect to the skin.
Whole Leaf Aloe Vera (Barbadensis): Bronze Biologic solutions and skin formulas contain a unique 200:1 Whole Leaf Aloe Vera extract that contains active nutrients, phyto-nutrients, vitamins, and minerals for optimal skin health. Aloe Vera contains over 75 nutrients and 200 active compounds.
Bronze Biologic tanning solutions do not and will never contain any harmful or toxic chemicals, dyes, alcohol, additives, perfumes, or artificial colors. We have sourced out only the purest form of all of ingredients that will deliver results unsurpassed by any other tanning solution on the market.
Each batch of Bronze Biologic tanning solution is mixed and blended by a stringent process that meets a checklist of quality control standards for exact ph, viscosity, and color to optimize results and ensure that all of the ingredients in our formulas remain stable and consistent. Bronze Biologic uses an exact manufacturing procedure for our premier tanning solutions that will increase the absorption into the skin, enhance color, extend the life of the tan, and will give you that golden bronze color you have always wanted. Once your clients see the color and results of a Bronze Biologic tan, they will never look for another one. You will have an extremely satisfied customer who will be a repeat customer forever.
————————————————————————————————————————————————————————————–
The 
Bronze Biologic Tanning Systems 
are where luxury Sunless Tanning begins. Easy to use in a low or high volume spa or salon, on the go, at home, or any other business setting. The Bronze Biologic tanning systems give you heavy duty air compressor tanning benefits without the heavy duty costs. Our time tested spray guns are no match for the competition and gives the user variable setting control at their fingertips.  Our tanning solution is applied personally by a trained technician and the results will leave a lasting impression on any customer. Bronze Biologic's legendary technological excellence takes the whole concept of sunless spray on tanning to another level and puts our tanning equipment way ahead of similar products.  Expressly designed to meet the special requirements of for spray tanning solutions,
the Bronze Biologic tanning system is a lightweight and portable, which allows a client to receive a full body tan in only 5 to 8 minutes. Our system is highly effective since the solution goes on the client, not into the air, 
with absolutely minimal over spray.
Superbly engineered, the Bronze Biologic Mist Applicators 
put perfect control in the hands of the user. The turbine motor produces the exact amount of pressure with the quietest noise level on the market. Our easy handling spray guns atomize the solution into tiny perfect particles in a precision controlled spray fan.
Tanning solution applies gently in a fine base layer which maximizes skin and DHA adhesion for an absolutely flawless end result.
  Bronze Biologic will get you started in the highly popular and profitable business of Sunless Spray On Tanning. We predict that you'll find it to be the simplest, most wonderfully designed piece of essential beauty equipment in the world.
Bronze Biologic is NOT an ordinary airbrush system 
and can be applied in just a few minutes. Our proprietary delivery system will prevent over-spray, streaking, discoloration, and lost profits. Our system delivers a perfect tan every time.Our tanning machines are designed with the latest research and most efficient technology in the world and our tanning solution has been highly researched and tested.
NO returns or refunds once equipment is purchased Using other tanning solution brands will void the equipment warranty